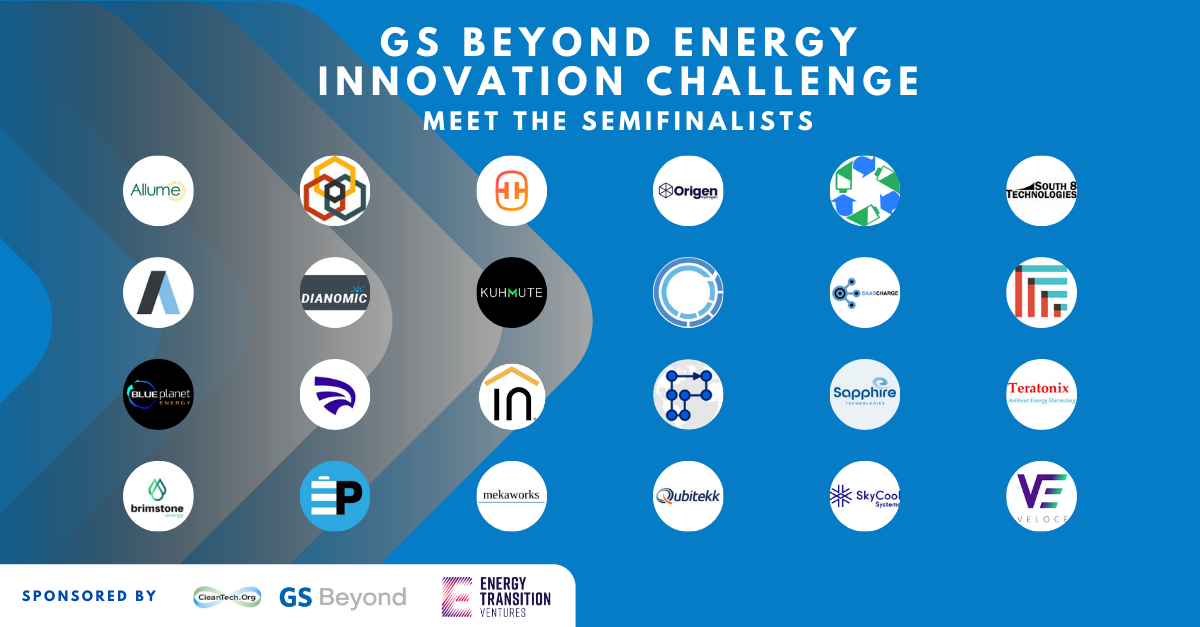 New York, USA, June, 19, 2021 – Saascharge has been named a semifinalist in Cleantech.org's inaugural GS Beyond Energy Innovation Challenge, a pitch competition celebrating purpose-driven startups that address persistent and emerging hurdles of the energy transition. The 2021 semifinalists were announced by program sponsor Cleantech.org, the leading portal for energy & environmental technology commercialization. Collectively, the semi-finalists have raised over $100 Mil in equity and non-dilutive funding to develop products for the next generation of energy. The companies range from pre-seed to late-stage and have been backed by over a hundred different venture capital funds, corporations and investors.
The GS Beyond Energy Innovation Challenge is hosted and funded by GS Beyond and GS Futures, the Silicon Valley-based innovation, and investment arms of the South Korean headquartered global energy, power, construction, and retail conglomerate GS Group. The challenge is supported by top incubators and accelerators in the cleantech sector, including: Greentown Labs, Elemental Excelerator, Third Derivative, Austin Technology Incubator, and Techstars.
"All of our semi-finalists have clearly demonstrated that they are purpose-driven startups that address persistent and emerging energy transition problems," said Sungene Ryang, Executive Director of GS Beyond, and host of the GS Beyond Innovation Challenge. "We are excited to learn more about their solutions and wish them the best of luck in the next phase of the competition."
The objective of Saascharge in this competition is to show how we can enable any companies to enter the EV charging market thanks to an open, scalable, interconnected charging platform. The electric vehicle market needs more investments in charging equipment, the Saascharge approach is to provide a suite of cloud-based applications to create, operate and monetize partners EV charging Networks. 12 partners are already using Saascharge to provide charging services to more than 200 customers with access to 70'000 chargers in the US, Europe and South-East Asia.
"We see this as a recognition to our EV charging platform model that enables partners around the world to create sustainable electric vehicle charging network business model thanks to an open and interconnected platform with more than 30 partners and access to 70,000 charging stations," said Richard Albrecht, Founder & CEO of Saascharge
The GS Beyond Energy Innovation Challenge's independent panel of judges will select the top five finalists that will present at the Pitch Day Event on July 21st. Judges include highly experienced investors and executives from Chevron, Amazon, GS Group, and EDF. Top three finalists will be considered for a pilot project with GS Group. First place winner will receive a cash award of $100,000 with no strings, deliverables, or equity dilution.
The full list of categories and list of finalists for the 2021 GS Beyond Energy Innovation Challenge can be found here.
About Saascharge
Saascharge's scalable, open platform enables e-mobility providers to profitably operate and control their own EV charging networks for the first time. By leveraging e-roaming, ensuring broad, intra-network charging, coupled with a novel, geo-advertising application, Saascharge not only enables the most profitable network economics but also the best driver engagement and charging experience available. Saascharge is based in the US and has operations in nine countries on three continents.
About GS Beyond
GS Beyond is the open innovation arm of GS Group, focused on identifying and fostering innovation across various industries: energy and power, retail and commerce, and engineering and construction. Based in Silicon Valley, GS Beyond builds partnerships with companies developing cutting-edge technology and innovative ideas to change the world in positive, sustainable ways. For more information, visit gsbeyond.com.
About GS Futures
GS Futures is the US corporate venture arm of GS Group, focused on investing and collaborating with World-changing teams and innovations tackling Climate Change, Energy Transition and the Future of Commerce. By marrying the existing capabilities of GS with innovations spurring from the Venture ecosystem, GS Futures seek to collaboratively disrupt for a more positive future. For more information, visit gsfutures.vc.
About Cleantech.org
CleanTech.org is the leading portal for energy & environmental technology commercialization. Their mandate is to be the access point for the growing number of individuals and companies involved in the sector. They seek to allow these participants to develop networks and access information and resources to facilitate the commercialization of clean technologies through an interactive experience. For more information, visit www.cleantech.org.