Public charging network description
A commercial EV charging network is equipped with Smart Charging Stations connected to a backend to manage EV driver Charging transactions.
The eMobility service provider do manage:
Drivers
Authorisations
Service management
Billing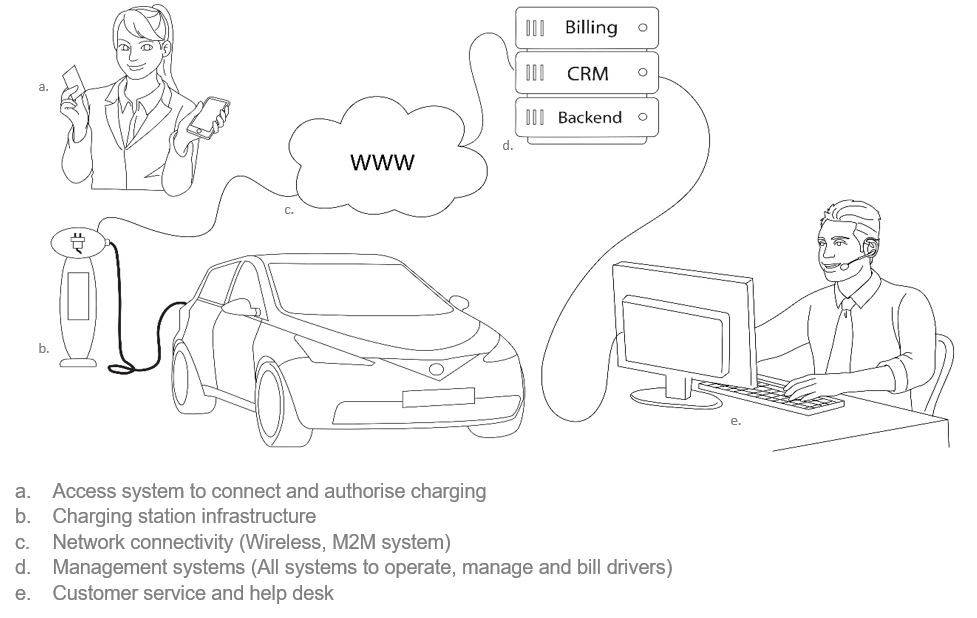 This is the hardware which does provide the electricity necessary to charge a vehicle. The charging station must be smart, which means that they can communicate with a backend and be compatible with international communication protocol OCPP (Open charge point protocol).

This is the owner of the charging infrastructure. This is generally a commercial facility (e.g. Restaurant, retail zone, corporate site) with parking. The client is the owner of the hardware which is operated by a Charging station operator.
Charging Station Operator which do manage commercially and operationally charging stations for site owners.
This is the hub interconnecting charging station networks (represented by CSO) with EV drivers represented by eMobility providers.

eMobility Providers is the commercial role of the service provider giving access and managing charging revenues of EV drivers. EMPs can provide access for EV drivers to charging station networks via subscription services over RFID or Smartphone applications.
Electric vehicle driver is the user of the charging services. He does have to register to an EMP to use the charging services with an RFID or Smartphone application.
Any question? Please contact us