EV Charging for Retailers: How to turn Charging into a Shopping Opportunity?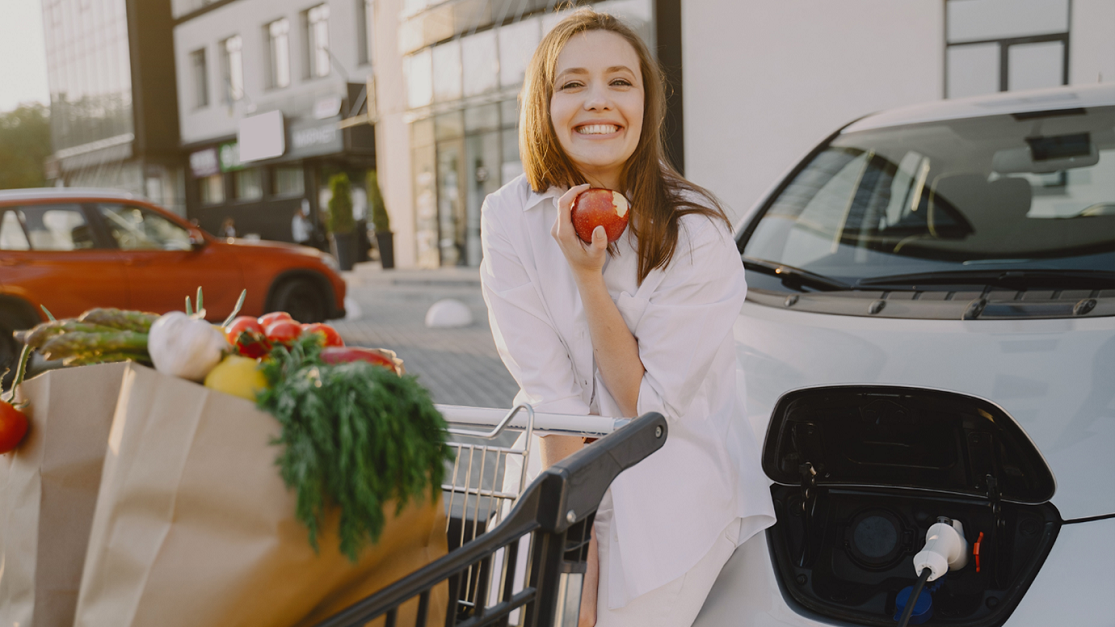 Customers Re-fueling their car after shopping has become an after-sales standard which is why many retailers operate gas stations. However, with the growth of electric vehicles, they have to think differently! EV charging is more than just a "potential full tank" after shopping; It is a chance to attract new customers, build loyalty, and valorize a forgotten asset; Car parks! This by just installing a few EV charging stations per store and – crucially – connecting these stations with their loyalty management systems to offer the best "shop and charge" experience.
Why is EV charging so interesting for Retailers? 
There are many benefits to provide EV charging services next to the obvious market transition from gasoline to electric.
1. Perfect location
Retailers have the 3 most critical success factors to make an EV charging network successful:  Locations (the stores), Drivers (the shoppers) and an Occupation while charging (shopping)
2. Attracting more customers at stores
In today's online delivery era, having new reasons to get consumers onsite for an in-store experience is more important than ever (10 times more sales than online according to entrepreneur)
3. Generate new revenues with EV charging
Sales start at the parking, with $10 to $30 revenue per charging session!
Make or buy: Shall retailers provide or outsource EV charging services?
It is a legitimate question since electric vehicles represent only ~2% of cars on the road and specialized EV companies are willing to install chargers at "no costs". These outsourcing models similar to a "Vending machine" proposition can be attractive if we manage a few drawbacks:
Direct relationship with consumers: Managing EV drivers offers the benefit to engage and push targeted cross-marketing actions (product advertising, promotions…)
Full access to charging data: Direct access to charging data (Who, when, how long, how much…) is a necessity if Retailers wants to develop their own "shop and charge" strategy
Charging income model: Whether it is a revenue share or commission model, getting access to $10'000 to $50'000 annual income per charger shall not be underestimated
Now if retailers can operate gas stations, providing EV charging as charging station operator and eMobility provider shall not be much of a challenge. Especially as they can mandate engineering companies to install and maintain chargers while using a white label EV cloud-based platform (e.g. Saascharge) to operate and commercialize charging services (authorization, eRoaming, billing…).
What kind of EV charging strategy can retailers adopt?
Offering EV charging services while shopping is only a beginning. The real opportunity is to steer EV drivers to selected shopping sites. For this, three different aspects need to be considered:
Integration of EV charging with loyalty and store data
Development of commercial strategies to attract and stimulate EV drivers
Establishment of key partnerships to valorize your EV charging assets
1. Use the power of data
EV drivers in need of a charge require a smartphone application, RFID cards (e.g. retail loyalty card) or in-car systems (Plug & Charge) to find and start charging sessions. These systems collect valuable traffic data (Consumer ID, location, usage, time, state of battery….) that can be combined with consumers and real-time retail data (e.g. store frequentation, promotions, inventory…) to create a powerful customer journey: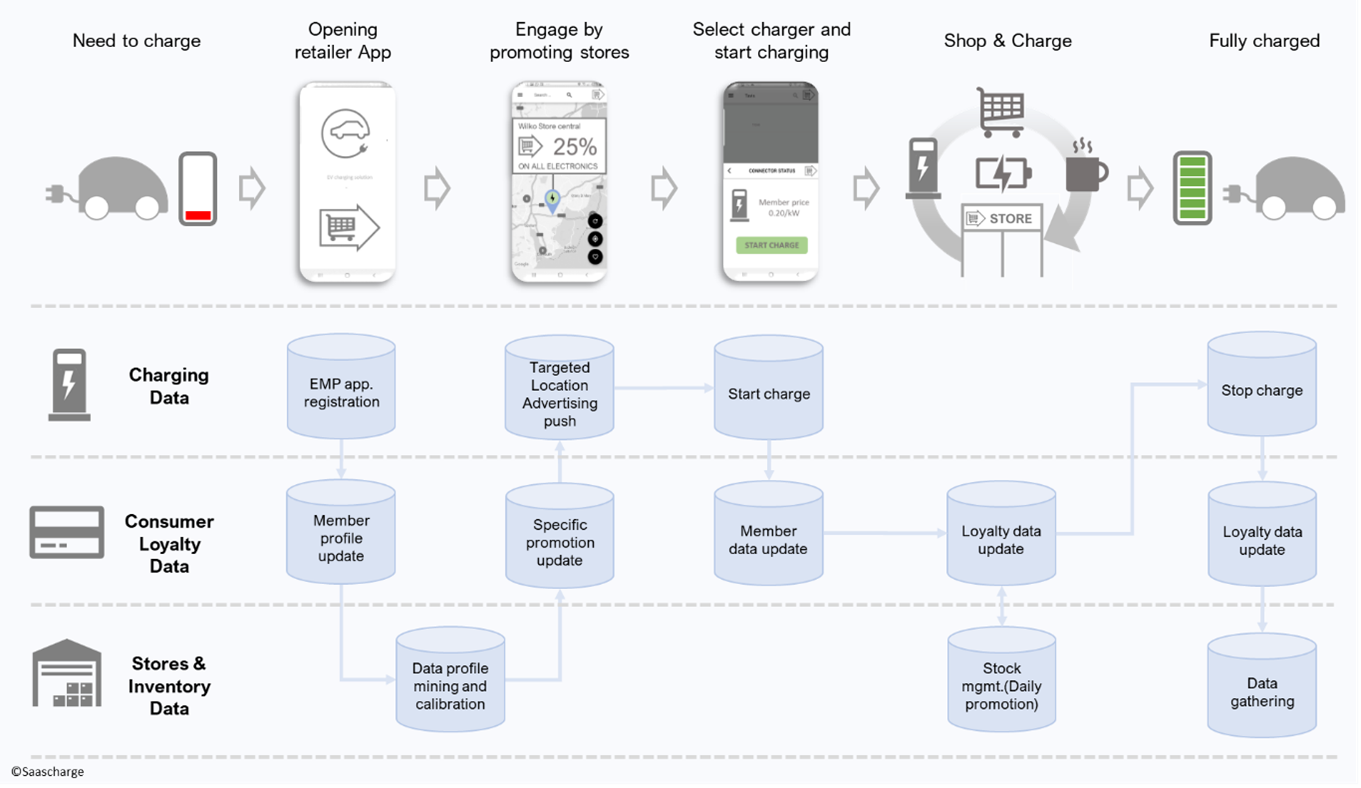 The principle is to feed these charging, loyalty and inventory data with advanced recommendation engines, such as reinforcement learning algorithms to push the right product to the right customer at the exact location!
2. Develop a commercial strategy to engage with EV drivers
This is about how Retailers can engage with the "Shop and Charge" experience to increase retention and convert occasional shoppers into regular ones.
A. Attract EV consumers by offering better charging rates
Segment customers by offering members better-charging conditions (e.g. $0.20 per kWh for members instead of $0.30 per kWh for guests…) and pushing guests to sign up for loyalty cards.
B. Stimulate EV driver sales with circumstantial offerings
Imagine a regular shopper driving home with low batteries and looking for a charging site on the store application. We now know who needs a charge; For example, a young professional with a shopping history indicates that she is an amateur of "fine food". This information enables retailers to push promotions for fresh Italian pasta at a store located on their way home! On top of that, they can offer further promotions on "sell-by date" vegetables yielding better inventory turnover and reducing waste.
C. Make consumers stay longer with EV charging
Charging an electric vehicle can take from 20 to 120 minutes depending on the type of vehicle and charging stations. This is a great reason to motivate customers to get a longer shopping journey by upselling in-store services. Let's take the example of a family getting a shopping break while charging their car. The store could offer coupons for restaurants or coffees to extend their stay. This is possible as we know who is charging (loyalty member), the level of the battery (state of charge) and shopping habits (e.g. coffee).
 3. Valorize your EV charging service by creating new partnerships
The number of stores that Walmart covers in the US (5'000), Carrefour (5,592) in France and Tesco in the UK (4'008) could make them among the largest EV networks by just adding 3 to 5 chargers per location. This is an ideal basis for partnerships as:
Charging Point Operator (CPO) offering charging access to other EV market players such as car manufacturers with dedicated promotions to attract drivers of specific brands (e.g. Ford, Toyota, VW…).
eMobility service providers (EMP) giving loyalty members access to other EV charging networks with eRoaming. This with preferential "charge and leisure" offers (e.g. wellness, golf club, hotels…) thanks to the large group of consumers they represent.
Going full EV is the only way! Start now, collect data and build up your future!
Some Retailers have already started providing charging services to follow a trend or for image reasons but being present isn't enough! We believe that the real opportunity for Retailers is an end-to-end "Shop and charge" strategy! This is a unique chance to interact with consumers from home to shopping destinations.